Motorcycle Carbon Monoxide Analyzers
Testing Products & Tune-Up Guides
Effective Tools for Improved Horsepower and Instant Throttle Response
Motorcycle Carbon Monoxide Analyzers for Performance Testing
Our Carbon Monoxide (CO) Series Analyzers are used to insure motorcycles operate at peak horsepower throughout their operating range.
We invite you to browse the features and primary uses of each product category with the links below.
…and expand your knowledge for applying CO analysis of motorcycle exhaust with our technical bulletins and other resources.
---
CO Series 2500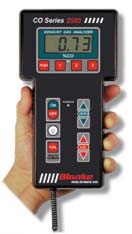 The CO Series 2500 is our most user friendly and feature rich of our CO analyzer products. It is designed to be fast and portable with its own battery pack. Measuring carbon monoxide from 0 to 10% requires it to be turned on and a probe inserted into the motorcycle's exhaust pipe. A reading can be completed within 15 seconds of the probe being inserted. To read the motorcycle's CO level in a different operating mode, simply run the test and read the data.
With the CO Series 2500 and its optional printer, a hard copy of CO results from up to 6 tests can be saved while the motorcycle is road tested to see where fuel delivery problems exist. Only Blanke Industries offers this on the road testing capability at this price.
On the road, data is continuously stored. When the handlebar mounted switch is pressed, the previous 5 seconds of data is frozen and the next 10 seconds of data is logged. Carbon monoxide results are stored during this fifteen second snap shot of the carburetor or fuel injection system. When back in the shop, a printout will show the results of these road tests. The printed pages from the analyzer and printer before and after an adjustment for a 30 to 80 MPH roll-on test are shown below.
50 to 80 MPH Roll-On
Printout Before Tune-up

50 to 80 MPH Roll-On
Printout After Tune-up
---
CO Series 1500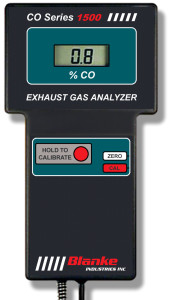 The CO Series 1500 is the mid-level analyzer for the cost conscious repair technician. It reads 0 to 10 % CO, offers fast speed, is accurate, rugged and is powered by the battery in the motorcycle. For low cost and accurate CO adjustment, this analyzer is the value leader.
The CO Series 1500 with it optional printer has memory capability and provides a hard copy of CO results at idle and off idle. The printed page from the analyzer and the printer is shown below.
| | |
| --- | --- |
| | |
| Printout Before Tune-up | Printout After Tune-up |
---
CO Series 1000 Exhaust Gas Analyzer
The CO Series 1000 is our entry-level product designed with small shops in mind. It measures 0 to 4% CO, and is powered by the battery in the motorcycle.
| | |
| --- | --- |
| | |
| Printout Before Tune-up | Printout After Tune-up |
More about the CO Series 1000 ▪ Return to the Top
---
Technical Bulletins
Other Motorcycle Performance Resources